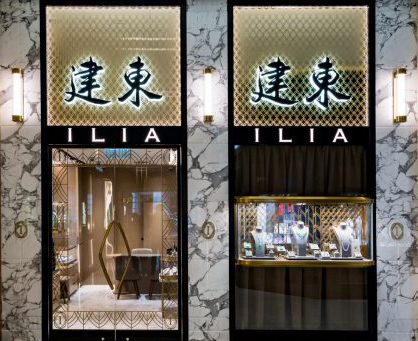 ILIA Jewellery established in 2019, specializing in top-quality Burmese jadeite jewellery. The brand is committed to promote the Chinese jadeite culture with a contemporary expression from the West, and is actively sharing professional jadeite knowledge and helping collectors to find the rarest jadeite masterpieces with unique design and exquisite craftsmanship.
The two founders of ILIA have known each other since their childhood. Both of their families have deep roots with jadeite. One is a collector of Burmese gems and jadeites. The other founder's family has been trading in jadeite raw materials and finished products for over sixty years. Their top jadeite and gemstone collection is second to none. With their strong relationship with Myanmar jadeite mining companies, experience in making top quality jadeite jewellery and reputation in the industry, they have an unparalleled advantage in sourcing top materials. The two founders have been deeply influenced by their elders since childhood, and show much affection in jadeite and traditional Chinese culture. They have a mission to promote jadeite to the world and also hope to share their knowledge on jadeite and bring joy and positive energy to everyone.
The Pursuit of Perfection
We insist to only collect the highest quality jadeite. With our accurate judgment of jadeite raw materials, designer's dedication, precise craftsmanship, and persistence to achieve perfection, we hope our customers will feel our passion and sincerity. Every piece of ILIA jewellery is unique and is the perfect combination of nature, cultural art, and craftsmanship.
Giving Jadeite a New Life
We work with young generation Chinese and European designers, artists and sculptors to design jadeite jewellery that represents this era, and strive to make today's creations a future classic.
We hope to make jewellery for all those who love jadeite. Quantity isn't important to us, but quality is. By carefully selecting the finest material and the best design for each of our pieces, we are giving jadeite new life so that those who own it will be filled with happiness.
Promoting Jadeite Culture to the World
Although jadeite has been popular in China for more than 300 years, in western countries it is far less accepted as compared to diamonds and other gemstones. Most jadeite designs in the market seem dated, and lack ingenuity, interest or excitement. As a pioneer of the industry, we are determined to promote the jadeite culture through more youthful and trendy designs, and hope to reach more young collectors all over the world. Owning an ILIA jewellery, the customer will be able to appreciate the beauty of the jadeite and understand its value. We also educate people the investment value of jadeite through in-shop lectures and online articles, which could be an incentive for potential new collectors.