Jadeite is not only a precious gemstone but also has its spiritual meaning. Jadeite has held implied meanings of life, health, wealth and prosperity since centuries ago. It is also a symbol of unwavering love between husband and wife. Some believe it is a symbol of auspiciousness and use jadeite to protect themselves from evil or bad luck. Therefore, more and more people send jadeite as a gift to their loved ones to show their blessings and love.
Since ancient times, the subject matter on jade carving has been very extensive, including mountains, lakes, rivers, birds, animals, historical references, folklore and religious figures. No matter what theme it is of, every piece has its unique aesthetic and cultural meaning which can be expressed through methods such as homophony, metaphors and symbolisms.
Here we have the following examples: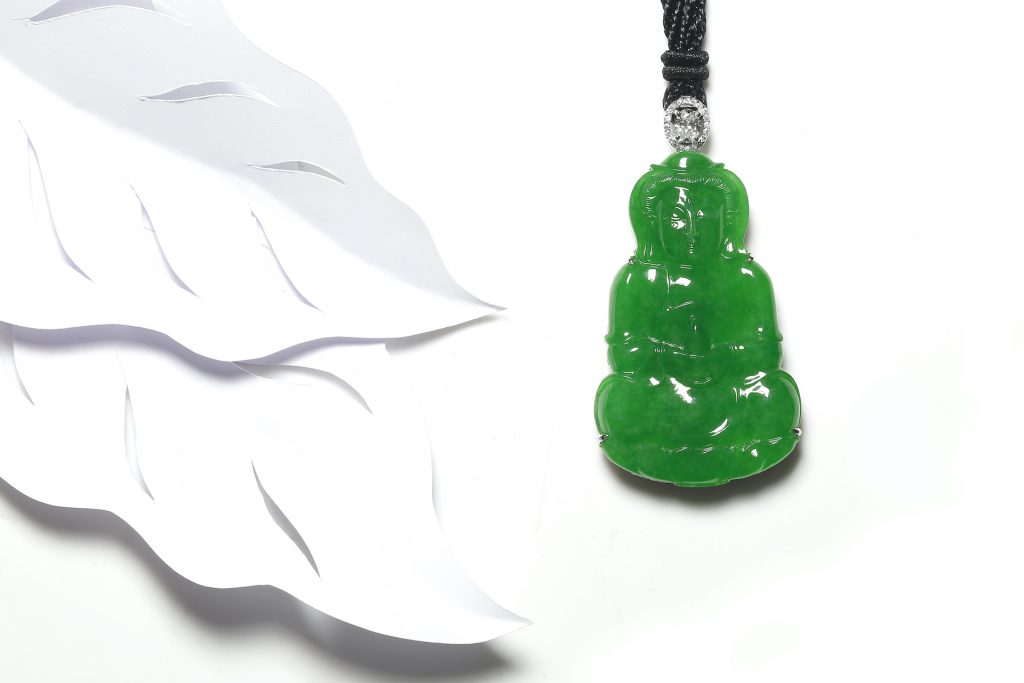 Guanyin
This jadeite Guanyin and diamond pendant is carved exquisitely, and shimmers with a beauty like water. This classic pendant is not only nicely shaped, but also smooth and transparent with a lustrous aura. Ancient people believed that by worshipping Guanyin (Goddess of Mercy) they would find a husband for their daughters. Another implied message of Guanyin is to protect humanity and the world. Guanyin has always been known for her compassion and saving people from suffering. And this jadeite Guanyin carries the implication of bringing good fortune.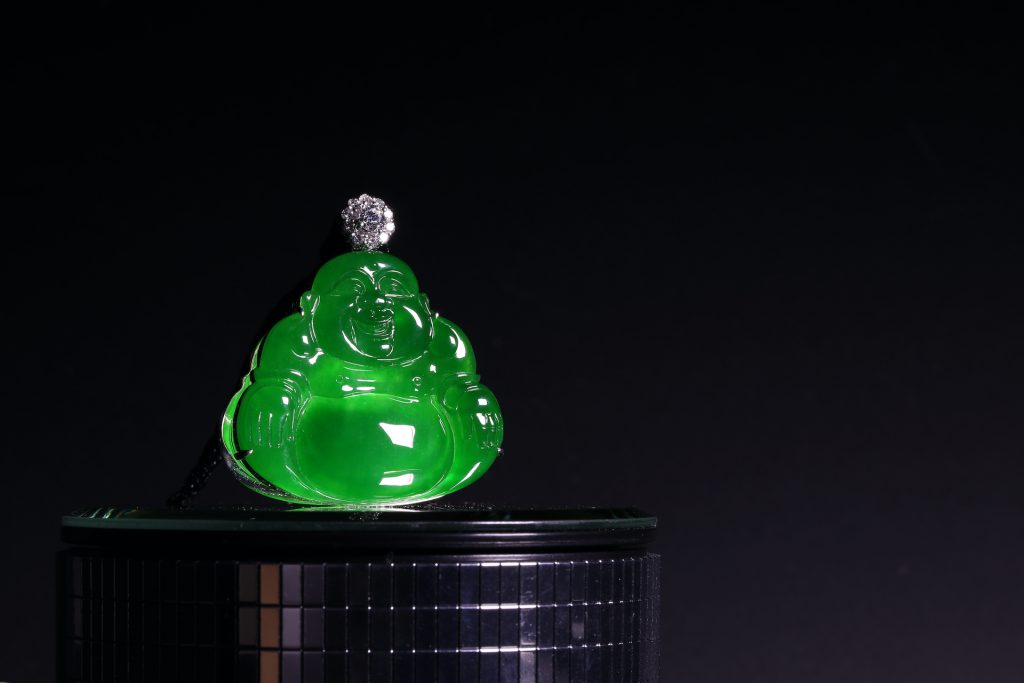 A natural jadeite and diamond pendant carved into the Maitreya Buddha's shape, with glass-like transparency. Many Chinese people believe that wearing a Buddha or Guanyin will bring them enlightenment, peace, good fortune and health. In the south, men typically wear Buddha and women wear Guanyin, whereas in the north the custom is the opposite. These guidelines as to what you should wear are less strict. As long as you admire the beauty of a pendant, both men and women can wear whatever they desire.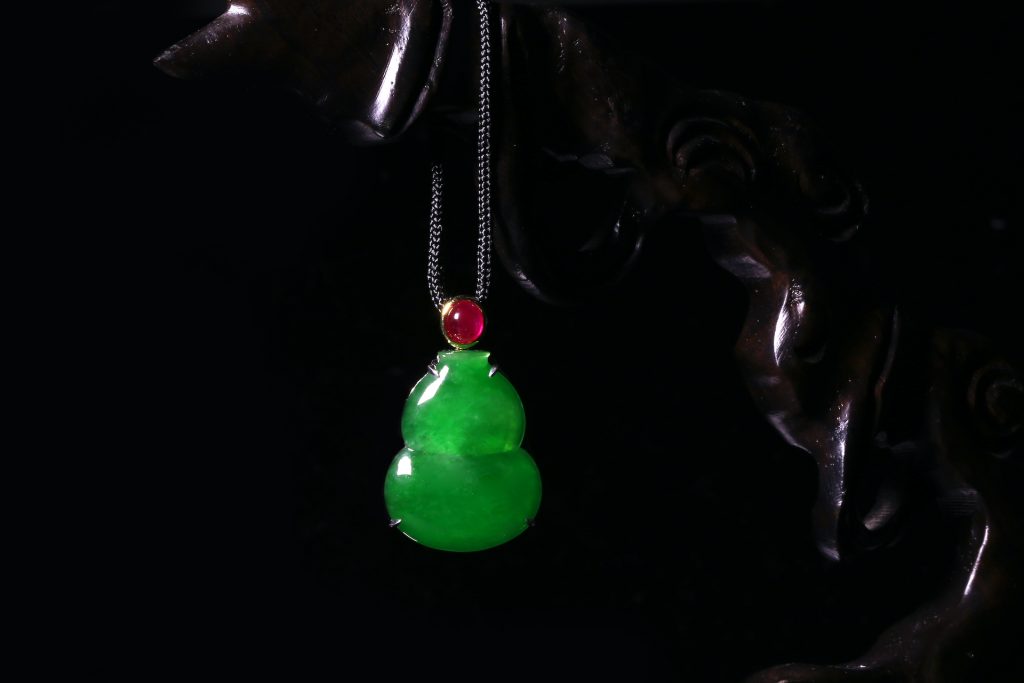 Natural jadeite gourd (Hulu) and ruby pendant. The gourd is transparent, round and full. The homophone of gourd in Chinese is "Fu Lu", Fu means or good fortune and Lu means high ranking and profit from employment or office. Wearing the jadeite gourd bestows the bearer with the blessings of "Fu Lu".
Green and Lavender Jadeite Necklace: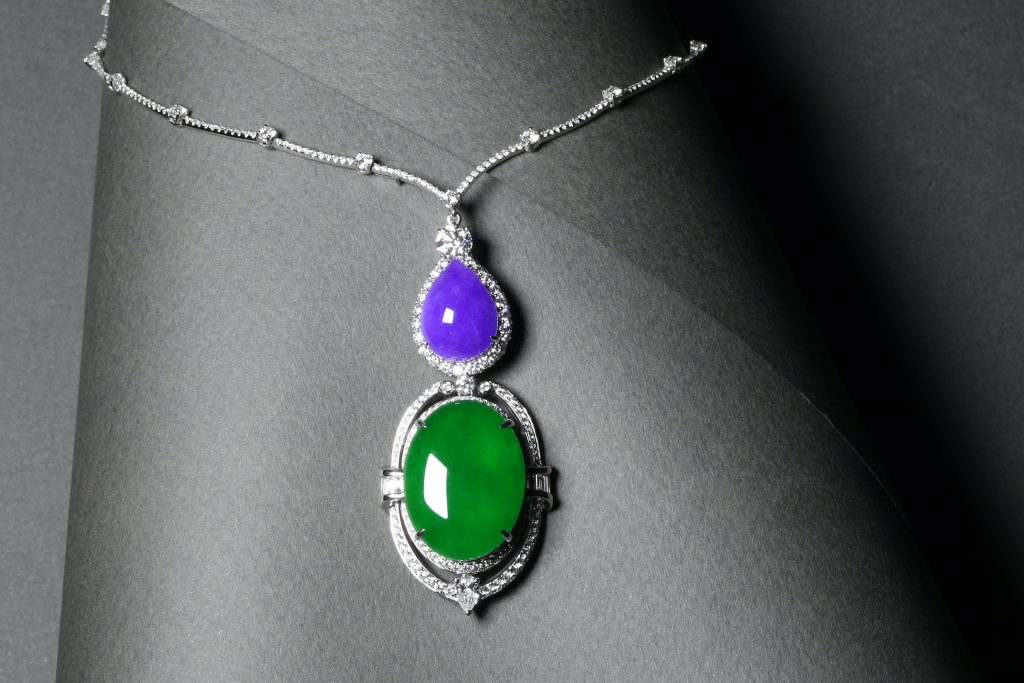 Natural green jadeite cabochon with almond shape lavender jadeite and diamond necklace. The cabochon has an intense hue with a fine and dazzling texture. This strong shade of green is of imperial green (the best colour in green jadeite). On the other hand,the almond shape lavender jadeite is very rare due to its super-rich colour and fine grain. Almond in Chinese also refers to the eyes of beautiful lady. Lavender jadeite also known as "the colour of spring", representing new beginning and prospects. The rarest green and rarest lavender jadeites complement each other elegantly, symbolizing perfect balance as well as best of both worlds.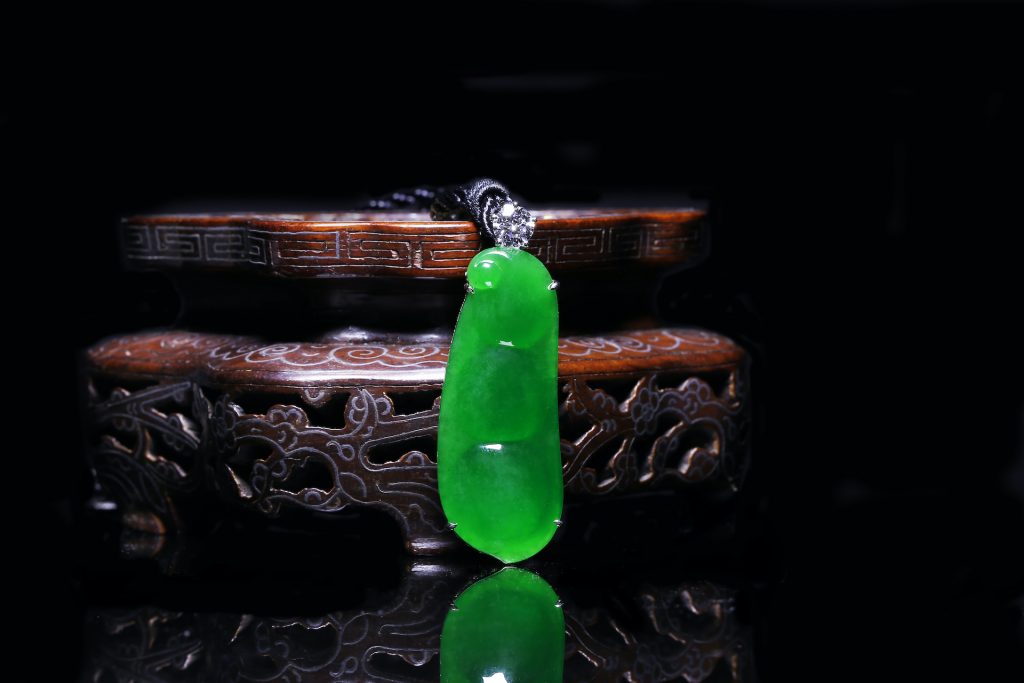 A natural jadeite peapod and diamond pendant. Carved into a nice, plump shape that symbolizes that the quality and craftsmanship on this piece is rare. Its best imperial green colour gives the bearer a feeling of nobility and class. This peapod pendant bears the jackpot of the three ultimate achievements Chinese people most desire: Prosperity, wealth and longevity. Peapod is a symbol of lineage which is very important in Chinese culture.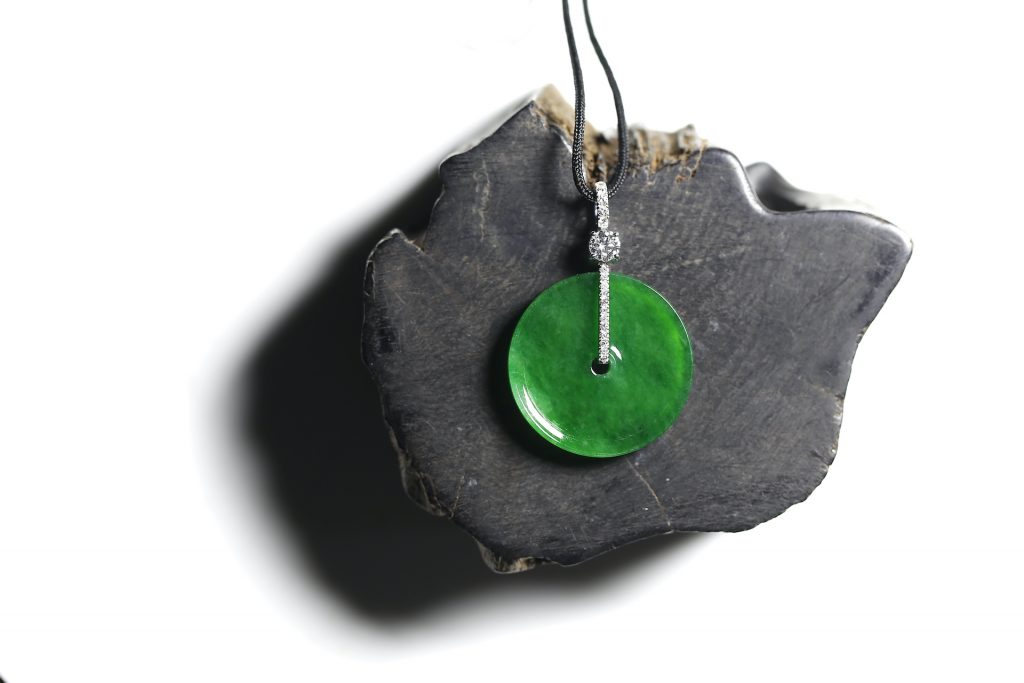 The natural jadeite disc and diamond pendant. This jadeite disc is thick with even distribution of emerald green colour. "Ping An" in Chinese means safe and peaceful, is a blessing often used by Chinese and Western people from one to another. Being safe and peaceful is a simple necessity that most people would pursue throughout their lives. As an auspicious item in the culture of jadeite, the Ping An disc's simple and clean style make it perfect for daily wear.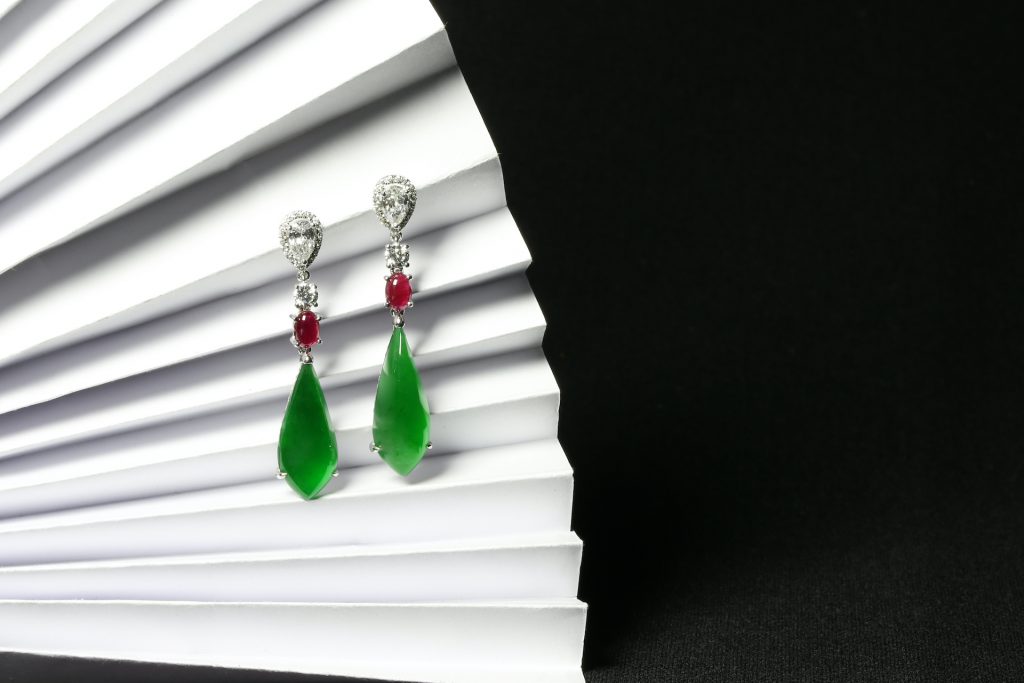 Natural jadeite droplets, ruby and diamond earrings. The shape of the water droplet is simple, its edges round and smooth. Water silently trickles around, nourishing all things in the world, and is the source of all things. The water droplet has different meanings in Chinese culture. Although the water droplet shape is also called tear shape in the world of jewellery, but they do not mean sorrow. Under the lustre of the green, it is like watching the beauty of the flowing water. Red is also an important colour as it symbolises good luck, prosperity, celebration and joy. The designer has supplemented the rubies as the final embellishment of the earrings, bringing out the endless beauty and power of all things in nature.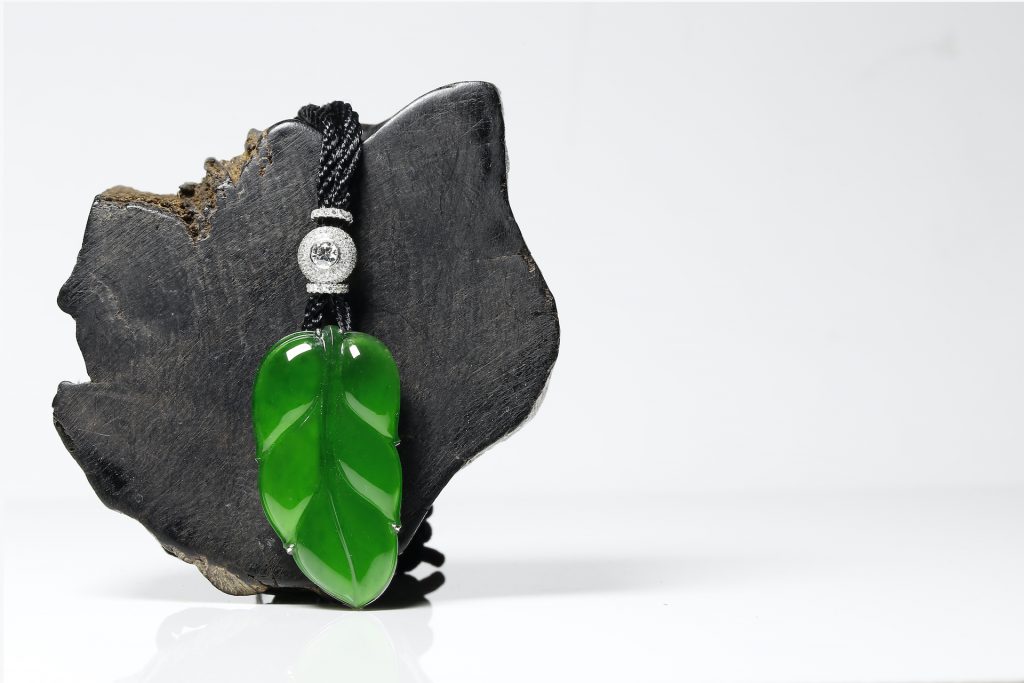 The natural jadeite leaf and diamond pendant has a delicate and fine texture, even colour, full-bodied, and crystal clear. Leaves represent vitality, meaning the evergreen of life. Ladies who wear jadeite leaf will remain forever young and beautiful. Elderly people who wear jadeite leaf would become full of energy with vitality. Tree leaves in Chinese rhymes with "Shi Ye", or career, a metaphor for a successful and prosperous career.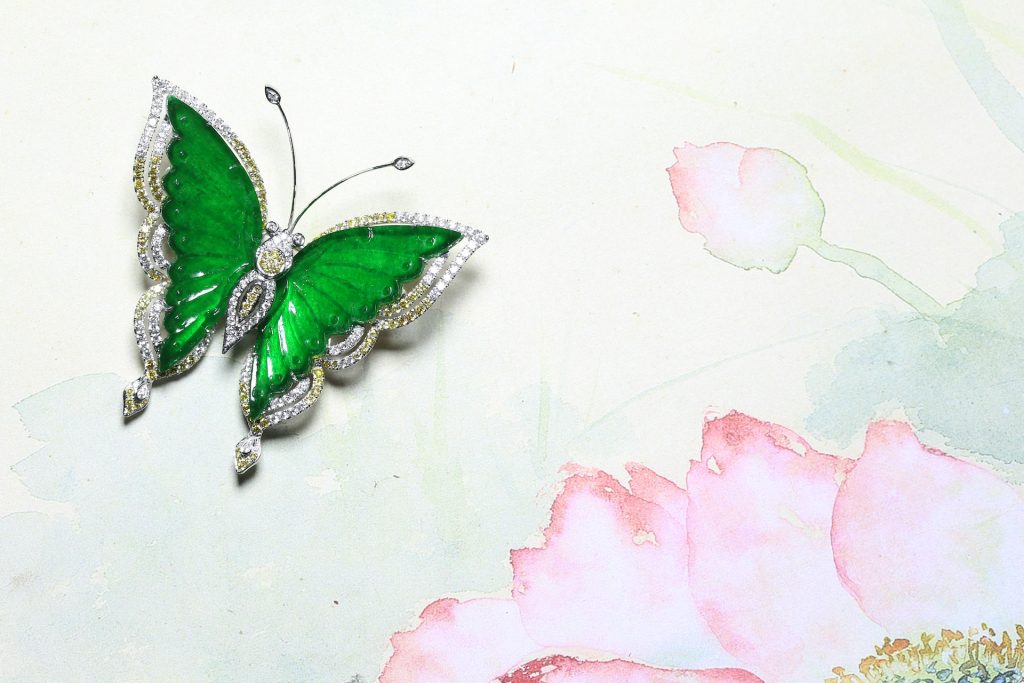 A natural jadeite butterfly and diamond brooch. The pair of wings carved from jadeite are of emerald green colour, yet its translucence gives it brightness making it beautiful and lively. Butterflies are common in jewellery design as they symbolize the sweet love and happiness in marriage. This butterfly flits in the wind, dancing around gracefully. It gives the wearer a feeling of vitality and hope. The word "Butterfly" in Chinese (Hu Die) and "Fu Die" are homophonic, where Fu Die means accumulation of fortune and good luck. This is another metaphor that blesses the bearer with a continuous fortune.