A Superb and Rare Jadeite Buddha and Diamond Pendant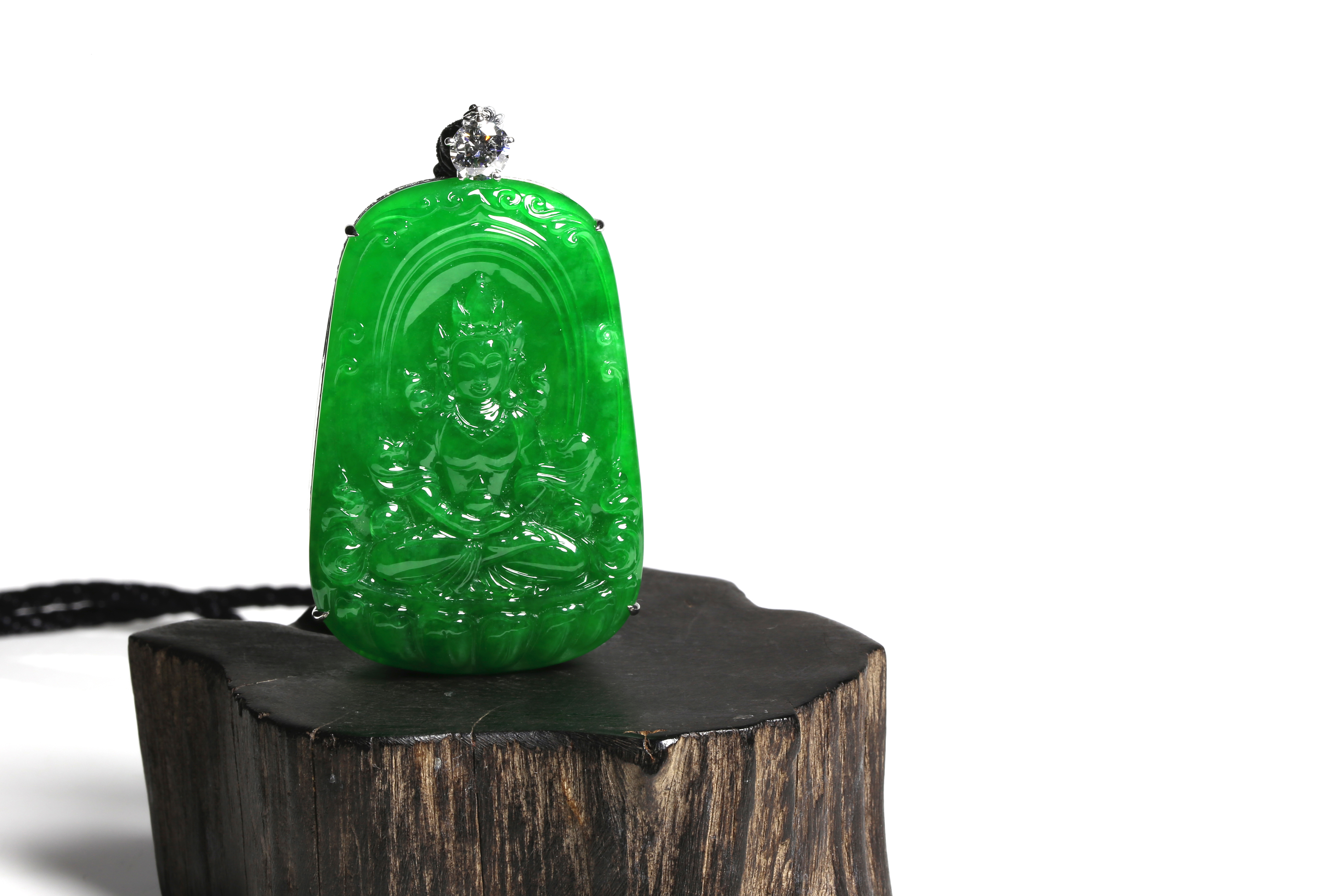 The earliest Burmese jadeite can be traced back to the pearl beans used by the Burmese Pyu people about 1,800 years ago. The source of the original stone is no longer available, but it is likely to be found from the riverbed of the Uru River, a tributary of the Chindwin River in northern Myanmar. In addition to the primary mineral bodies (mountain stones) in the jadeite mine, the secondary mineral deposits (water stones) formed by the pebbles or gravels in the ancient riverbed (alluvium) are also important places of producing Burmese jadeite such as Phakant, Wai Khar. The water stones in the alluvial layer are survived after the erosion, impact and collision of water flow, so their toughness and strength are generally better. The natural Burmese jadeite was then born in this way.
High-quality jadeite rough stones have been extremely rare since ancient times. People's continuous mining has led to the decrease of jadeite rough. In addition to the Myanmar government's control of jadeite rough, there are fewer and fewer high-quality rough stones on the market.
In the early years, the founders of ILIA were fortunate to purchase a top-quality jadeite rough of even color, excellent texture and high translucency. This jadeite of such large size with few flaws is extremely rare to be carved into a large pendant. Therefore we specially invited a top jadeite carving master, the winner of the National Craftsmen Award from 2005 to 2008, Master Huang Hong, who spent several years to design and carve this magnificent jadeite Buddha pendant.
The design of this jadeite Buddha pendant is based on the Longevity Buddha (Aparimita āyur jnāna su-vinisˊicita tejo rājāya tathagata) in Tibetan Buddhism. This work draws on the essence of the traditional Tibetan Buddhist portraits such as Buddha's face, body, clothes, posture and ornaments. The Buddha image is solemn, natural and reasonably proportioned.  Master Huang carved the jadeite with superb skills, and meticulously inlaid with selected diamonds on the platinum base to create this exquisite jadeite work of art. This superb quality jadeite Buddha and diamond pendant of extraordinary artistic value, showing infinite yearning for Tibetan Buddhism, is an extremely rare treasure for jadeite collector.